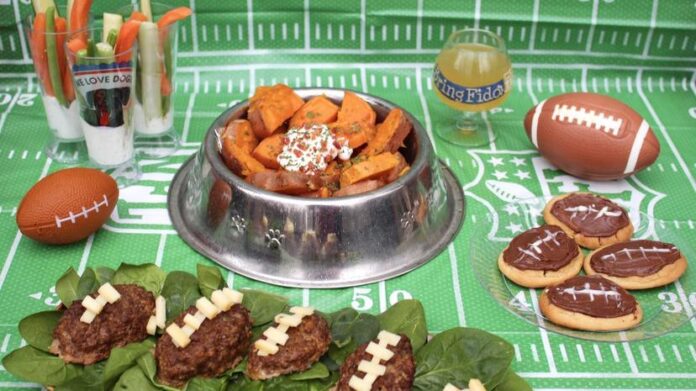 Fido's favorite thing about Super Bowl Sunday is obviously the snacks. (The Puppy Bowl is a close second.) That's why we've been hard at work in the BringFido Test Kitchen trying out some new "yappetizing" recipes just for furry football fans! No matter which team your pup's rooting for, he'll feel like he won the Lombardi Trophy with these homemade dog treats!
Actually, our Football-Shaped Muttballs, Irish Setter Nachos and Canine Crudités with Greek Harehound Tzatziki Dip are pretty tasty for humans, too. And if your pooch has a sweet tooth, the Fourth Quarter Peanut Mutt-er Cookies With Carob Icing will have his tongue wagging. To wash it all down, whip up a batch of Halftime Homebrew Dog Beer for man's best friend. These recipes are easy to prepare, and you'll feel great knowing that your pup's supper bowl will be filled with healthy and delicious snacks!
Football-Shaped "Muttballs"
Photo by Erin Ballinger
Score some points with Fido with these "muttballs." We've tailored a classic meatballs recipe for discerning doggy diners' needs. And you may have to fight off your two-legged guests since the presentation is so tempting!
Ingredients
1 pound ground beef (or turkey, chicken, bison or venison)
1 egg
1 tablespoon water
½ cup bread crumbs
2-3 slices of white cheese (string cheese, mozzarella or white cheddar)
Instructions
Preheat the oven to 350°F.
In a large bowl, combine the egg, water and bread crumbs and whisk together. Slowly add the ground beef and incorporate all ingredients together with your hands.
Form meatballs into 2-inch oblong football shapes and place onto a greased pan (with sides).
Bake for 20-25 minutes.
Let cool before garnishing with thin slices of cheese to resemble football laces.
If you'd like to adapt this recipe for humans, just add 1 tablespoon of soy sauce and some ground black pepper to the raw meat mixture before forming it into meatballs.
Irish Setter Nachos
Photo by Erin Ballinger
This is our pup-friendly take on the perennial pub favorite, Irish Nachos. We've substituted russet potatoes for healthier sweet potatoes and left off any salty seasonings. Garnish with parsley and serve in a dog bowl!
Ingredients
2 large sweet potatoes
2 slices of cooked bacon, chopped
1 cup grated cheddar cheese
¼ cup plain, full-fat Greek yogurt
2 sprigs of parsley, chopped (or dried)
Instructions
Preheat the oven to full broil.
Microwave the sweet potatoes for about eight minutes. (You could also bake in the oven if you have more time.)
Once the sweet potatoes have cooled, slice them into ½-inch thick slices. Then slice the circles in half.
Arrange the sweet potatoes on an aluminum foil-lined cookie sheet. Top with sprinkled cheese.
Place in the oven until the cheese is melted and bubbly. (This should not take longer than a couple of minutes, so keep an eye on it.)
Arrange in a serving dish (like a big dog bowl) and place the Greek yogurt in the center.
Top with bacon bits and garnish with chopped parsley.
To make this tastier for your two-legged guests, have salt and pepper shakers nearby.
Canine Crudités with Greek Harehound Tzatziki Dip
Photo by Erin Ballinger
A refreshing, dog-friendly tzatziki dip pairs well with crisp veggies for a healthy treat that's great as-is for all species of party animals!
Ingredients
1 cucumber
¾ pound raw green beans
6 carrots
5 stalks of celery
½ cup full-fat Greek yogurt
½ tablespoon fresh or dried dill
Instructions
Grate ½ the cucumber for the tzatziki dip. Place on paper towels and squeeze out any excess moisture.
Combine Greek yogurt, grated cucumber and dill in a small bowl to make the dip. Chill in the refrigerator.
Cut remaining cucumber, carrots and celery into 3-inch spears. Trim ends of green beans.
Arrange vegetables on a platter with the dip in the center. Or, place a dollop of the dip in individual cups and add an assortment of veggies for single servings.
Fourth Quarter Peanut "Mutter" Cookies with Carob Icing
Photo by Erin Ballinger
Your mutt will do a touchdown dance for one of these football-themed treats made with peanut butter, bananas and carob, which is like chocolate for dogs.
Ingredients
For the cookies
1 cup whole wheat flour
1/2 cup creamy peanut butter
1/4 cup mashed banana
1/4 cup vegetable, chicken or beef stock
For the icing
1/4 cup carob powder
1/4 cup boiling water
1/2 cup whipped cream
Instructions
Preheat the oven to 350°F.
Combine flour, peanut butter and banana in a large mixing bowl. Add the stock and stir until well-combined into a thick dough.
Roll dough into individual 1-inch balls. Press each ball into a flat, oval shape like a football and place it on a greased cookie sheet.
Bake for 15 minutes or until brown around the edges. Allow the cookies to cool completely.
In a small bowl, whisk together the carob powder and boiling water. Mix until smooth and a paste forms. If the icing is too stiff, add in water 1/2 teaspoon at a time.
Spread icing over the cooled cookies. Garnish with whipped cream to look like football laces.
Halftime Homebrew Dog Beer
Photo by Erin Ballinger
This non-alcoholic dog beer recipe won't break the bank and will make Fido feel festive. Serve in mini beer steins or individual dog bowls.
Ingredients
1 can low sodium beef broth
1 can low sodium chicken broth
1 can low sodium vegetable broth
Instructions
Combine beef, chicken and vegetable broths.
Serve in individual cups or dog bowls. You can also pour any leftovers into an ice tray and freeze for a frozen treat.
Source: BringFido