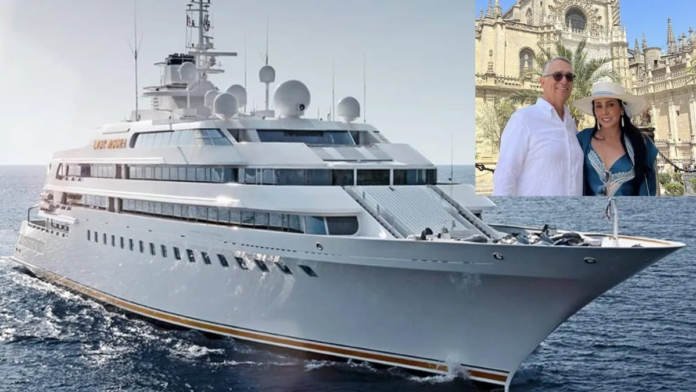 This yacht has a party room, spa, casino, helicopter, beauty salon, movie theater, elevator, pool with retractable roof, beach club, air conditioning and more.
Last Thursday, the Mexican businessman, Ricardo Salinas Pliego docked in the port of Seville (Andalusia), in southern Spain, in the company of his family and friends, aboard his new yacht Lady Moura, which was bought for 125 million euros (equivalent to more than 2.6 billion Mexican pesos) from the Saudi billionaire Nasser Al-Rashid last year.
This vehicle, with the flags of the Bahamas, and considered one of the 15 most luxurious, has a ballroom, spa, casino, helicopter, beauty salon, cinema, elevator, swimming pool with retractable roof, beach club, air conditioning and As if that were not enough, the name on the helmet was made with 24-karat gold.
Entirely designed by Luifi Sturchio and built in 1990 by Blohm+Voxx, in Hamburg, the yacht measures 104.85 meters in length and reaches a maximum speed of 22 knots, has four levels, a crew of 71 people, and a capacity to accommodate 27 guests in 13 luxury cabins, according to the El Mundo newspaper.
Visit Spain for the traditional Holy Week
The Mexican tycoon visited the port of Seville this Holy Thursday on the occasion of the traditional Holy Week. The arrival of the majestic Salinas vehicle was published this Sunday by the newspaper El Mundo, along with a photo of the ship docked in the Guadalquivir River.
After docking, Salinas and his companions left for Triana to dine at one of the best restaurants on the site, known as La Casa de María, they also saw the departure of the brotherhood of Esperanza de Triana, according to the publication of The World newspaper.
Later, while the yacht was still docked in the Guadalquivir river, they were seen walking around the city.
Who is Ricardo Salinas Pliego?
Ricardo Salinas is one of the leading entrepreneurs in Latin America and a man convinced of the potential of Mexico in the 21st century. He is the founder and President of Grupo Salinas, a group of companies that employs more than 70,000 people in seven different countries, with operations in industries such as media, telecommunications, banking, insurance, specialized trade, power generation, and mining. Due to his career in business and a strong social commitment, he was distinguished with the degree of Doctor Honoris Causa by the Autonomous University of Guadalajara. 
Mr. Salinas has the most visited blog of any entrepreneur in Latin America: Http://www.ricardosalinas.com/blog/