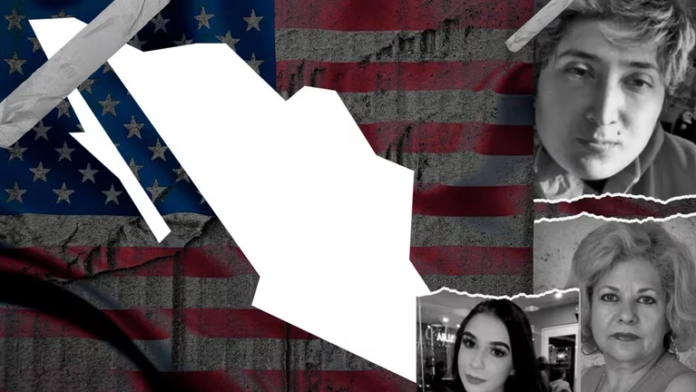 In recent weeks, different cases of US citizens who disappeared in Aztec lands have jumped to the pages of the US media, questioning how safe it is to visit Mexico.
The kidnapping of 4 Americans (and homicide of 2 of them) in Matamoros, Tamaulipas, on March 3 once again put the citizens of the United States ( USA ) on alert due to the potential risk of visiting Mexican territory — especially in areas with the presence of organized crime.
And although said case was reported in the media (both nationally and internationally), the disappearances of Americans in Mexico are more common than expected.
Data from the National Registry of Missing and Unlocated Persons (RNPDNO) consulted on April 13 indicate that the US has been the country with the most disappeared citizens in Mexico since 1964, adding 629 men and 540 women — that is, 28% of the people missing foreigners.
Bionce Amaya Cortez recently entered these numbers, a 20-year-old girl who disappeared on the night of April 9 in the municipality of China, in Nuevo León. This hours before she was due to return to her hometown of Misson, Texas.
The complaint on social networks was published by Amaya's sister (Facebook / Ethna AC)
So far it is unknown if Bionce, also the mother of a 4-month-old baby, was kidnapped. However, the circumstances of the case recalled the triple disappearance of the Trinidad Pérez Ríos sisters, whose family and friends have lost communication since February 25.
Dora, Marina, and Maritza also disappeared in the same municipality as Bionce, from where they went to a flea market in Montemorelos to sell clothes. The last information that was known about them was that they deviated from the road and took the Méndez-Tamaulipas highway.
Sonora, Sinaloa, and Tamaulipas are the border states where the most people have disappeared. A large part of these cases are related to the power of organized crime, especially the Gulf Cartel — which "handed over" the alleged perpetrators of the abduction of Latavia McGee, Shaeed Woodard, Zindella Brown, and Eric Williams in Matamoros.
The sisters Dora, Maritza and Marina also disappeared in the municipality of China, Nuevo León. (Archive)
It should be remembered that the case of the Americans in Matamoros drew strong criticism from the Government of Mexico, which, according to opinions, would not have dealt with the case with such priority without pressure from the United States .
"Unfortunately, in Mexico, it seems they don't care who you are, they just won't look for you," said Ale Olivas, a friend of the American Mónica de León who disappeared since November 2022 in Jalisco — the second state with the most disappearances in Mexico according to the RNPDNO.
"What has helped Monica's case is that she is American."
In July, Mónica traveled to Mexico to "find peace of mind" in the face of the great depression she suffered during her stay in the United States, her friend commented. However, her search for her happiness was taken away by a group of people who kidnapped her in Tepatitlán in broad daylight.
"It took place just two blocks from the National Guard. It was at five in the afternoon, two blocks from his work and with people passing by. Because in Mexico it seems you can do this without a consequence," Ale Olivas explained through a Tik Tok video.Missing American friend in Mexico
0 seconds of 3 minutes, 11 seconds Volume 90%Mónica de León's friend recounted how her relationship with the American was
FBI offers reward for its missing nationals
North American and Mexican authorities continue with the investigations to find Mónica de León. In one of those efforts, the FBI (Federal Bureau of Investigation) issued a search sheet and offered USD 40,000 for information to help locate her.
This would not be the first time that the US Federal Bureau alerted about a missing compatriot in Mexico: in February 2023, a notice was given for the disappearance of María del Carmen López, offering USD 20,000 for indications or data on her whereabouts.
The US citizen was the victim of a kidnapping on February 9 in Pueblo Nuevo, Colima. Her children, Sonia and Toño López, reported that local residents managed to notice the crime, however, the lack of video surveillance cameras has prevented them from obtaining details of the abduction.
"While she was watering her plants outside her home, two people wearing hoods arrived and there was an exchange of words. Testimonies state that she told them that she would not go with them (the kidnappers) in the truck. Then one of the men loaded her up and another one got out of the car to help get her in and run away," Sonia explained to The Press Depot.
" She is not a bad person, she is a grandmother, she is a 63-year-old woman."
Daughters of María del Carmen López Continue Their Search
0 seconds of 18 seconds Volume 90%María del Carmen López was kidnapped in a community in Colima on February 9.
A few days after the world received 2023, the FBI alerted for the disappearance of 35-year-old citizen Edgar "Polvos" Pérez Chairez in Mexicali, Baja California.
Authorities reported that the American who was called "Powder" by his friends was kidnapped while he was on Avenida Tabasco and Calle Chilpancingo. He transcended that a white Ford F-150 car would be involved in the crime.
Edgar was last seen on January 4 when he was leaving his home, located in the Baja California municipality of Pueblo Nuevo, aboard a red Honda truck, which was stolen by the same kidnappers.
According to relatives, authorities pulled the burnt-out vehicle a day later in the vicinity of Ejido Villa Zapata, but nothing has been heard from Edgar Pérez yet.
The Bureau offered a reward of USD 10,000 for information that speeds up the search for the young man who, according to witnesses, was abducted around 4:00 p.m.
Source. infobae.com