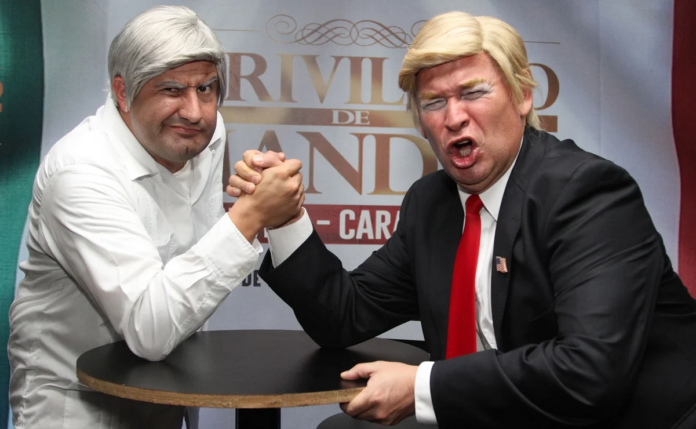 Program with a long tradition that has made fun of any politician or character related to the sphere of power in Mexico, "El Privilegio de Mandar", produced by Televisa, could face censorship, via a lawsuit promoted by the Presidency of the Republic, specifically, from the office of Elizabeth García Vilchis.
According to information revealed by the Bajo Reserva section of El Universal, a group of youtubers related to 4T, those that the president calls "alternative journalists", are preparing a lawsuit against the broadcast, since they are frequently parodied by the same.
"In the legal offensive that is being orchestrated, they tell us, they have noticed the hand of the person in charge of the section in real life, Elizabeth García Vilchis, who is also parodied in the program," says the newspaper.
He adds that one of the most watched segments of the program is the morning parody, in which García Vilchis is usually imitated, given his reading difficulties and peculiar voice.
"Several of the youtubers related to the so-called Fourth Transformation, who are parodied for their obsequious participation in the National Palace, are preparing lawsuits to prevent the political satire from continuing," he explains.
It will be remembered that this program had a great boom during the six-year term of Vicente Fox, where the parodies of the then president and his wife, Martha Sahagún, were the favorites of the audience. The then head of government, Andrés Manuel López Obrador, and even the presidential spokesman, Rubén Aguilar, current collaborator of etcetera, were also parodied.
After the six-year term ended, the program had an additional period, but then it disappeared, to be revived later. In this six-year term, he has had the morning as one of his favorite motifs, and with it, Vilchis and youtubers like Lord Molécula.
Its success was such that a version for theater was even made.
Coincidentally, in the program Operación Mamut, headed by the pro-government comedian Jairo Calixto, the composer and host Fernando Rivera Calderón and others, a "parody" of the morning is performed, in which AMLO is presented as a sweet old dreamer and the YouTubers themselves are presented as avid followers, who validate every word said by the president.