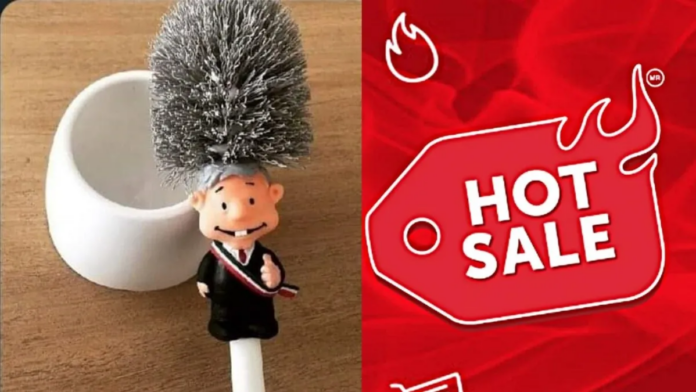 Users have welcomed this particular product with open arms, making all kinds of comments about it and demonstrating a key point in marketing, creativity.
The creative area of ​​a company has the opportunity to attract potential clients if it bets on making sufficiently risky bets.
It only takes six seconds for a consumer to "fall in love" with a product after seeing it.
Creativity in a product can be implemented in its design or even in its packaging.
Social networks have spotted a particular product that has caught their attention, a creative toilet brush with an AMLO figure.
Taking into account the new areas of consumption by the population where digitization and electronic commerce have regained an important role, today there is a wide variety of products that can satisfy the same need, where value-added offers are in an element of utmost importance to be able to capture the attention of potential customers and thus manage to register a sale, since they have the ability to compare the same product with the competition by searching for these items located in different catalogs, categories, platforms and presentations.
Despite this, there are some strategies that can be used to "fall in love" with the consumer, a fact that we can achieve if we bet on using creativity.
According to the Nielsen report entitled "Five keys to advertising effectiveness", it was established that creative quality is the most important factor in driving sales, since it affects 47 percent of the total reach, proven to be a strong positioning opportunity, if a sufficiently risky bet is made.
Toilet brush with AMLO figure attracts attention from digital consumers
The image of Andrés Manuel López Obrador (AMLO) is constantly promoted in the world of social media, in part due to the political strategy with which he seeks to promote his name, as happens in his morning conferences, where Internet users get endless material to create different trends that indirectly promote your digital presence.
Taking into account its popularity and digital presence, a user has chosen to show social networks a particular product, a toilet brush with a plastic figure of the president of Mexico,  a fact that has caused Internet users to make all kinds of comments on the regard.
Although this AMLO brush was created as a kind of mockery of the president during the Hot Sale, users have shown to have received this idea in a comical and, therefore, effective way, thus demonstrating the opportunity to integrate creativity into the design of a product.
Creative products, an effective marketing bet
Creativity in the design of a product or its packaging is proclaimed as a good opportunity to capture the attention of the consumer and make him fall in love so that he chooses our brand over the other competition in the market.
Nielsen data shows that it only takes six seconds for a product to attract the attention of a consumer and entice him to buy; Likewise, they mention that a good design could imply a return on investment of up to 2.5 times higher than that invested through other marketing strategies, as well as promoting it through a strategy on social networks and other communication channels.
We found an example of this some time ago with that Comex brush packaging, with which its brush simulated being a mustache from "Mario Bros region 4", a fact that caught the curiosity and attention of potential customers.
The creative area is just as important as other areas when considering the success of a brand, as well as its products and services.