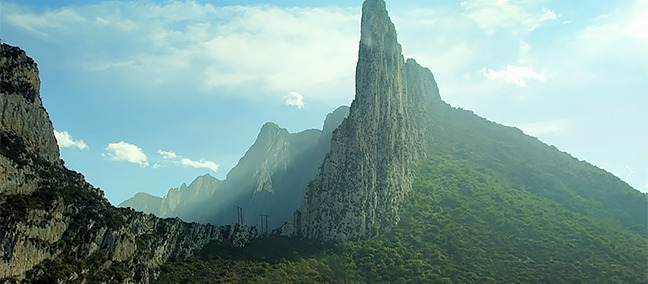 To spot one of Mexico's most uniquely shaped mountains, head to Cumbres de Monterrey National Park and marvel at the Cerro de la Silla, or Saddle Mountain. The mountain's four distinct peaks give it a wavy saddle shape when viewed from the western side of the park.
Besides the iconic mountain, Cumbres de Monterrey National Park is also home to stunning waterfalls, flowing rivers, and colorful canyons where you can enjoy a variety of outdoor activities.
---
Grutas de García is an intricate cave system that stretches for over a whopping 300 meters. If you visit, look for the famous chambers of El salón de la luz and La octava maravilla, where the sun rays shine through the rocks to illuminate the stalagmites.
Cola de Caballo is a 40-meter tall waterfall located in the park. The water cascades down giant rocks and boulders which resembles a horse's tail.
Chipitín Falls is a waterfall that can be accessed if you're feeling up for adventure. The hike to the falls is quite advanced, and you'll need to rappel off rocks and swim through rivers in order to reach it.
Where to Stay in Cumbres de Monterrey National Park
Source: YouTube