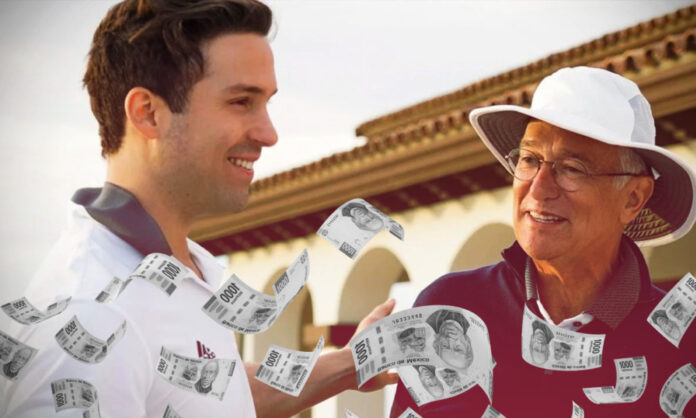 In a video, the Mexican businessman explained that as a natural person he does not owe "a penny", but that if his companies owe, "let them pay".
The Mexican businessman Ricardo Salinas Pliego -the owner of the Grupo Salinas conglomerate that has Banco Azteca, TV Azteca, Elektra, Totalplay, among others- affirmed that he does not owe taxes to the Administration Service Tax ( SAT ).
Through a video shared on social networks by his nephew Memo Salinas, the businessman explained that as a natural person he does not owe "not a penny", but that if his companies owe, "let them pay".
"In the first place, Ricardo Salinas Pliego is me, I am a natural person and I do not owe a fifth, nor do I have any open audit or complaint. I personally. Now, I own many companies and my companies are with my children. If the companies owe, then let them pay".
Ricardo Salinas affirmed that he does not owe anything and that he is even one of the largest taxpayers in Mexico: "This year I am going to pay more than 200 million pesos in taxes, personally. So do not come to me with blowjobs that I do not pay taxes and it must be said because they do not have a filler. I pay and pay too much".
The third richest man in Mexico, according to Forbes magazine, considered the imposition of a rate of 35 percent an abuse.
"I mean, imagine. You work 10 hours a day and three and a half hours are for the Government, but it doesn't end there because when you have 65 percent left you go to a store to spend and pay 16 VAT (Value Added Tax). So, the effective rate leaves 55 cents of each peso available to you and not only for me but for many other taxpayers".
After his example, once again Ricardo Salinas reiterated that he does not owe a penny. "The issue of my taxes, personally, does not exist. Did you already understand?
Despite the fact that the debts of the Salinas Pliego companies could amount to 40 billion pesos, according to what was said in February 2020 by Raquel Buenrostro Sánchez, head of the Tax Attention Service, the billionaire constantly responds on the subject in his social networks.
On January 19, the Supreme Court of Justice of the Nation (SCJN) ruled that Grupo Elektra, one of the great bastions of this businessman, must pay two thousand 636 million pesos of a tax credit derived from illegal deductions in the Tax Income Tax (ISR), applied in the 2006 tax return.
For more than a decade, the SAT maintained a battle in the courts against Grupo Elektra and it was in recent days that the Second Chamber of the Court rejected the last resort to the chain of stores, confirming previous sentences of the Federal Court of Administrative Justice (TFJA ) and a Collegiate Circuit Court.
In the review of amparo 2497/2018, the Second Chamber of the SCJN resolved, with three votes in favor and two against, that the review filed by Grupo Elektra was inadmissible, for which the Ricardo Salinas Pliego conglomerate will have to pay SAT.
This case began in May 2015 with a lawsuit before the Federal Court of Administrative Justice, but due to the appeals filed by Grupo Salinas, it reached the Supreme Court in March 2018.
After the SCJN ruling, Ricardo Salinas Pliego told ADN40, a television station that belongs to his conglomerate, that the Supreme Court gave them "a tasty stick" because the ministers refused to review their case.
Following the decision, the company said in a statement that it will take legal action before international bodies. In addition, he said he had the full right to disagree with the authorities and to defend himself against what they consider "a flagrant violation" of his "human rights."
While this is only one of eight cases against the company, the Court's decision could affect all other lawsuits.