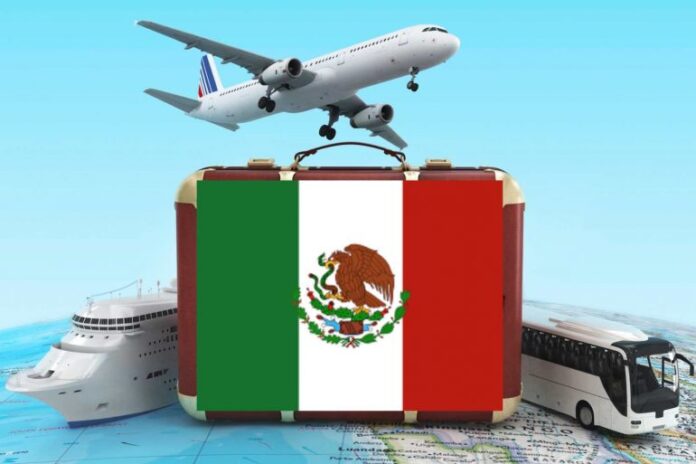 Mexicans' interest in traveling exceeds the global average by 13.7 percentage points in domestic tourism and 5.8 points in international tourism.
Mexican tourists show greater interest in vacationing in destinations within the country than abroad, with 48.5% and 31.7%, respectively.
The above, according to an analysis that was carried out with data provided by Foresight Factory, in alliance with Allianz Partners, considered the opinions of Mexicans between 16 and 64 years of age.
The travel assistance company mentioned that the aspiration of Mexicans to travel more in the next 6 months exceeds global interest.
According to data from the Ministry of Tourism, in the first half of 2023, the arrival of national tourists to hotel rooms reached more than 30 million people, 10% more than in 1H22.
The world average of people who want to travel to their countries of residence is 34.8% compared to 48.5% in Mexico (+13.7%), and 25.9% in terms of international trips versus 31.7% in Mexico (+5.8%).
Regarding the duration of vacations, 51% of Mexicans prefer a short period during the year compared to 49% who opt for fewer vacation periods, but with a longer duration.
This trend is practically the same as what reflects global interest, where opinions are divided on the best way to take advantage of rest periods.
Specialists see a traveler who likes to have professional support and guidance to enjoy their vacation to the fullest.
At the Latin American level, 1 in 4 respondents vacation within their country for a week, a figure that is slightly reduced to 22% when it comes to vacations abroad, and 32% said that they usually take international trips of two weeks or more.
The Marriott International study adds that 54% chose to take at least one trip within their own country during the last year to beach and urban destinations, while 32% ventured into international trips.
Great interest in travel support services
Another fact from the analysis is that 7 out of 10 Mexicans indicated that they are interested in services that suggest trips, destinations, activities, and tours based on their interests and budgets to facilitate their decisions.
Given this profile of a traveler who likes to have professional support and guidance to enjoy their vacation to the fullest, the importance of becoming familiar with protection schemes that provide support in the event of any unforeseen potential, such as travel assistance, was recalled.
The assistance gives tourists the peace of mind of knowing that, in the event of loss of luggage or documents, accidents, illnesses, or trip cancellation, it provides reimbursement of unused expenses, access to medical services, legal assistance, and many more services.
Source: realestatemarket.com.mx