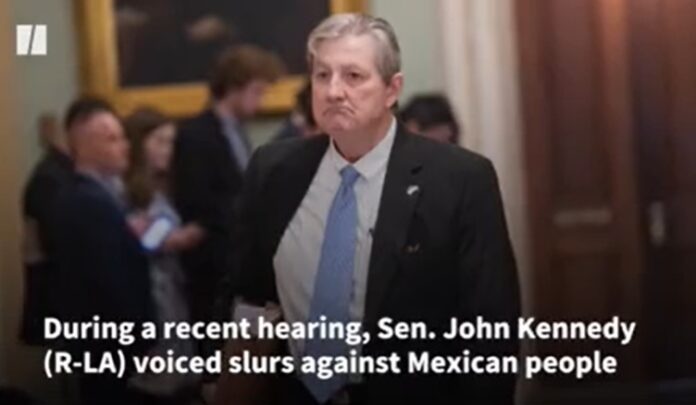 Sen. John Kennedy (R-La.) tried to explain away his recent slurs toward Mexican people, and Fox News host Neil Cavuto wasn't having it.
Kennedy earlier this week said: "Without the people of America, Mexico, figuratively speaking, would be eating cat food out of a can and living in a tent behind an Outback."
Esteban Moctezuma, Mexico's ambassador to the U.S., condemned the comment as "vulgar and racist."
📄Ambassador @emoctezumab sends a letter responding to insulting comments made by @SenJohnKennedy about Mexico.

🎥Watch the video here: https://t.co/ZRJQfFBYQN pic.twitter.com/gHljwTA5Kp

— Embassy of Mexico in the U.S. (@EmbamexEUA) May 12, 2023
Cavuto raised the controversy with Kennedy during an interview on Wednesday's broadcast of "Your World." He asked the Republican senator if he thought his language had been "too colorful."
Kennedy pivoted to explaining his proposal for military intervention, suggesting U.S. law enforcement, under the supervision of the Mexican military and police, work together to eradicate the cartels "because we know who they are and we know where they are."
Cavuto said Kennedy's idea "makes perfect sense," but then turned back to his comments about Mexicans.
"I guess what I'm asking you, sir — and not meaning to badger you on this point — but Robert F. Kennedy Jr. regrets the fact that some people might think you're related to him. He went that far. I'm just wondering, do you think the way you explained it to me just now would have been probably the better way to explain it?" asked Cavuto.
Kennedy said the other Kennedy was "entitled to his opinion" but suggested people look at his entire remarks to understand the context.
Cavuto said Mexicans think Kennedy has maligned them.
"I would say that's not true," Kennedy replied.
"But you don't take back any of those other words? Just to be clear?" Cavuto asked.
"No," Kennedy answered. He then asked Cavuto if he'd seen the context he was talking in.
"I have," the anchor replied.
"Well then, you'll understand them," said Kennedy.
"I don't. But that's just me," Cavuto replied.
Watch the interview here:
---
Source: Fox News