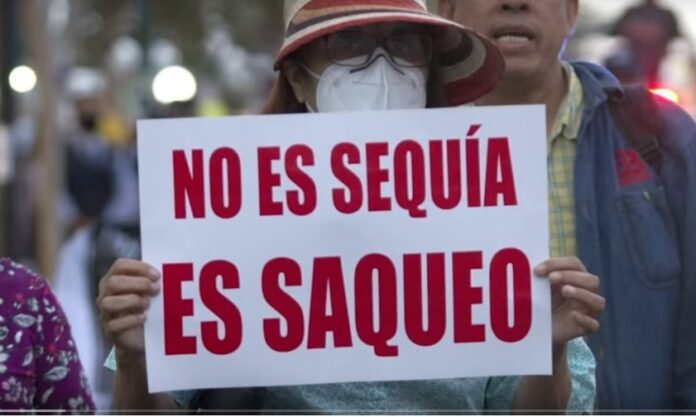 March 24.– At this beginning of the hot season, the inhabitants of the Monterrey Metropolitan Area and three more municipalities of Nuevo León made panic purchases of tinacos or tubs, since this week Agua and Drainage (AyD) officially began cutting off the supply to homes and restrictions on schools due to the empty dams in the region, a water crisis that civil organizations attribute both to the "negligence" of the last state governments and the National Water Commission (CONAGUA) as well as the "grabbing" of companies, including Cervecería Cuauhtémoc, Coca-Cola, and Topo Chico.
Given the low levels of rainfall in recent years, the storage of the "Cerro Prieto" dam is at 7.5 percent, that is, it has 14 days left; and "La Boca" Dam registers 14.2 percent of its capacity, so it has four days left, reported Wednesday the head of Water and Drainage, Juan Ignacio Barragán.
When both dams dry up, four thousand liters per second of supply will be lost, which must be compensated with the exploration of new wells and with the "El Cuchillo" dam, although by agreement a part of its water must be sent to Tamaulipas.
The head of Water and Drainage, Juan Ignacio Barragán, argued last week at a press conference that they will not cut off service to companies because, although he accepted that private initiative uses 54 percent of the water in the aquifer of Monterrey, has concessions for underground wells for which he asked Conagua to "put some pressure" on large companies to give up water from their private wells.
"There are many private wells [licensed by Conagua], currently we only have eleven incorporated," Barragán said after dialogues with companies.
Of the five million inhabitants of the Metropolitan Area of ​​Monterrey, the most marginalized neighborhoods such as those in the north-west will be the most affected, according to the authorities.
And the houses with swimming pools such as those located next to the dry dam "La Boca" in the municipality of Santiago, will be affected by this situation as well.
The "La Boca" dam where boats used to sail, is now at 14% capacity, and it does not look as a popular tourist area.
Source: Sin Embargo