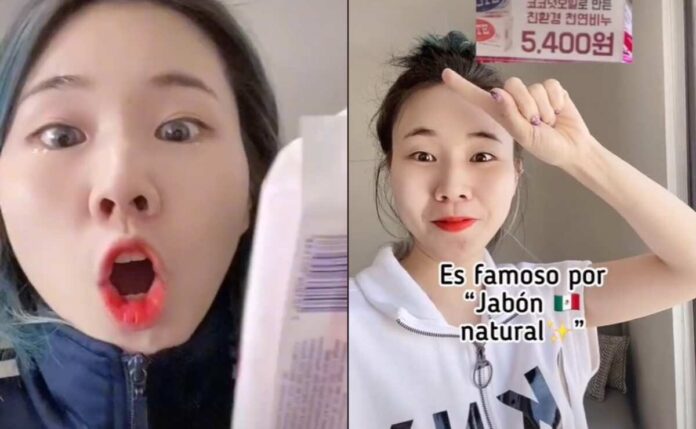 Tiktoker explains it, the video is already viral
TikToker Sujin Kim shared her pride upon learning that Zote soap is sold as a "natural product" in Korea, the video already has more than 4 million views.
In addition to culture and gastronomy, Mexico is known in the world for its products, such as traditional sweets, since they are a mixture of acid, spicy and sweet flavors that simply leave enchanted (and enchilada) any foreigner who tests them.
Likewise, another national product that has crossed borders thanks to its different uses is Zote soap, to such an extent that even in Korea they know and use it due to its versatility. 
Korean Sujin Kim shares her discovery
At least that's how the Korean TikToker Sujin Kim, better known as 'Chingu friend', demonstrated that after returning to her country, she realized that people there use it.   
 Through a video on TikTok, the influencer shared her discovery with her followers, noting that after returning to Korea, she discovered that this soap is very famous for being a "natural and great product", and yet her fellow countrymen know that it "works great".  
"When I came to Korea, it is very famous in Korea, the soap from Mexico is natural. The Koreans say 'it's from Mexico, it's very big… but it doesn't look that different, so we're going to use them,' explained Chingu Amiga.
Likewise, the tiktoker pointed out that when she visited Mexico, she was very surprised since, every time she needed to clean something that had a lot of fat, her Mexican relatives gave her the bar, just as they recommended it for other uses. In the same way, his surprise was great when he realized that the bar of soap was effective for such uses.  
The video has had such an impact that it quickly went viral and so far has accumulated more than 700,000 "likes", more than 3,000 comments, and more than 4 million views. 
After her discovery, the girl pointed out that she felt "very proud" of the sale of Zote soap in Korea, despite the fact that it has a high price there, since its value is five dollars, approximately 103 pesos, while in Mexico It has a value of approximately 12 pesos.
Mexico Daily Post