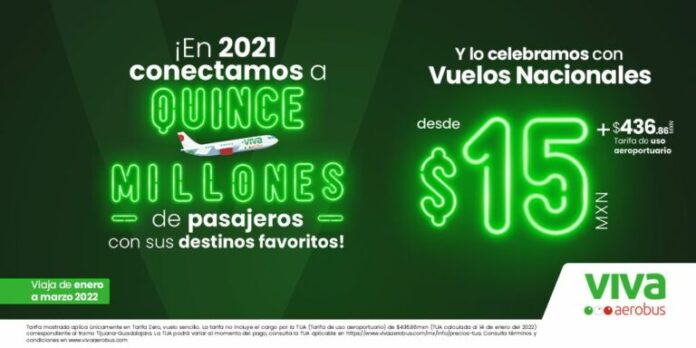 Viva Aerobus continues to give something to talk about, and despite the effects that its flights have had due to the contagion of its crews by the Omicron variant of Covid-19, the airline announced on social networks that it will maintain flights on all national routes from 15 pesos (less than one dollar), plus the airport use fee (TUA), which the Government has increased to 436.86 pesos.
Viva Aerobus pointed out that last year they connected 15 million passengers with their favorite destinations, and to celebrate, the airline is giving its customers the opportunity to fly again to their favorite destination for only 15 pesos from January to March.
According to its latest report, in December of last year, Viva Aerobus exceeded more than 1.6 million passengers for the first time, a figure that represented a growth of 46% compared to the same month of 2019 and with an occupancy factor of 84 %.
Regarding annual passenger traffic in 2021, an increase of 27% was reported compared to 2019 with more than 15.2 million passengers, a record figure for the airline.
According to Juan Carlos Zuazua, CEO of Viva Aerobus, these data are the result of their ultra-low-cost business model, which allowed them to continue stimulating demand and having served more than 15 million passengers last year, surpassing thus its pre-pandemic demand levels, with a healthy load factor despite the waves of Covid-19 during 2021.
"Our non-stop service, low prices, new fleet and unmatched reliability have been key to the preference and trust that passengers have given us during this pandemic," Zuazua highlights.
In addition to the flights canceled due to the lack of pilots and flight attendants, this Sunday the airline had to temporarily cancel its flights due to a fog bank over the Mexico City Airport area.
Source: reportur.com