Ricardo Sheffield, head of Profeco, said that the Viva Aerobus fare does not include hand luggage, which is against the law. Aeroméxico and Volaris already include it.
Ricardo Sheffield Padilla, head of the Federal Consumer Prosecutor's Office (Profeco), assured that Viva Aerobus continues to violate the law, despite the fact that the company has already been fined 20 million pesos because its rate does not include hand luggage.
"As long as they do not want to comply with the law, they will continue to accumulate fines," the official warned during the kick -off flag for Operation Decembrina Season 2021, which will run until January 7, 2022.
About 500 Profeco inspectors will be monitoring that there are no abuses by the providers of goods and services during these holidays.
According to the attorney, this day suspension stamps were put on the sale of Viva Aerobus tickets in some of its seats, since its rate does not include hand luggage.
"The law in Mexico is very clear, as in other countries it is not the responsibility of Profeco, but here in Mexico it is very clear and well written, that the rates must include the handpiece, " said the official.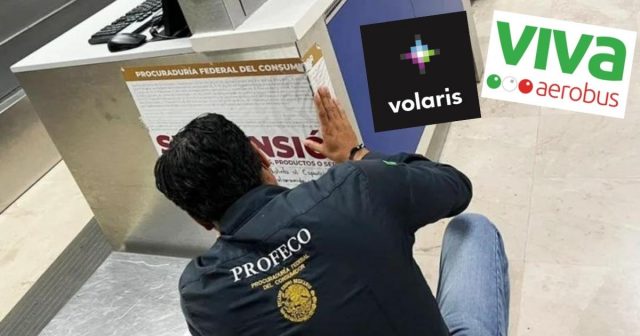 Sheffield Padilla recalled that Volaris and Aeroméxico accepted that the rate by law in Mexico must include the piece of hand luggage.
"At Profeco, we redouble our efforts to reconcile any problems this year-end season, that we return home healthy, safe, and that we also return happy because we did not have any type of misunderstandings throughout our vacations," he said.
Sheffield indicated that officials will be vigilant throughout the country to ensure that providers respect the rights of consumers and that there are no abusive practices that harm their family finances.
For this, he said, the Consumer's telephone number 55 5568 8722 and the number 800 468 8722 are available, as well as on-call personnel at the Consumer Defense Offices.
Among other actions, he commented that service modules will be installed in the main bus stations and in the airports with the highest tourist flow.
Among the latter are the air terminals of Cancun, Mérida, Querétaro, Guadalajara, Puerto Vallarta, Monterrey, Tijuana and Los Cabos , with business hours from 7:30 a.m. to 8:30 p.m., Monday to Saturday, and from 8:00 a.m. at 8:00 p.m. on Sundays and holidays.
At the Mexico City International Airport (AICM) there will be two modules, he reported.
In the rest of the cities, he said, there will be itinerant modules and informative banners will be placed, as well as in the four bus terminals in Mexico City and in the centrals of Cancún, Mérida, Puebla, Querétaro, Bajío, Guanajuato, Guadalajara, Tlaquepaque, Tepic, Monterrey, and Tijuana.
During every day of the December period, information, advice, and guidance will be provided to consumers regarding their commercial transactions. Complaints and reports of breaches or abusive practices by providers may also be captured.
In addition to the main airlines and bus lines operating in our country, tourism service providers such as hotels participate in this operation.
In the same way, he added, verification and surveillance actions will be carried out to ensure that suppliers display the prices and conditions of sale of their products and services, that they are respected and that no person is conditioned or discriminated against when intend to acquire or enjoy them.
For his part, the president of the National Chamber of Passenger Transport and Tourism (CANAPAT), José Lucio Rodríguez González, said that this tourist season is very important because after the long pandemic due to the coronavirus, he hopes that it will be "the detonator of a new beginning for the recovery of the passenger motor transport sector ".
In turn, Cuitláhuac Gutiérrez Martínez, representative of the International Air Transport Association (IATA) and the National Chamber of Air Transport (Canaero), affirmed that the new normal is a "great challenge" for companies and passengers in terms of sanitary measures. , in order to "continue taking care of each other, because this pandemic is not over yet"; and to encourage the tourist market.