Over 500 specimens of Mexican cacti in danger of extinction arrive at the Royal Botanical Garden Juan Carlos I of the UAH
The Royal Botanical Garden Juan Carlos I of the University of Alcalá de Henares (UAH) adds, from now on, new specimens to its already extensive collection of cacti and succulent plants with up to 500 Mexican cacti of different species that are in danger of extinctionLast Updated 08:28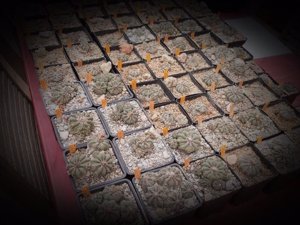 ---
The Royal Botanical Garden Juan Carlos I of the University of Alcalá de Henares (UAH) adds, from now on, new specimens to its already extensive collection of cacti and succulent plants with up to 500 Mexican cacti of different species that are in danger of extinction.
As an institution recognized by the CITES Convention (Convention on International Trade in Endangered Species of Wild Fauna and Flora), it has just received these specimens with the aim of conserving them in its facilities in the best conditions to enable the continued production of seeds and make possible their reintroduction in the places where they come from.
The plants are part of a shipment of cacti extracted from their wild habitat in Mexico, received at the Alicante airport, in Spain.
Its incorporation supposes, therefore, a contribution to the scientific collection of the Botanical Garden and to its use for educational and research purposes, since of the twelve species seized, two of them are new in this important collection and because they are wild specimens, and they mean a valuable renovation of the genetics of the Botanist's collection.
Given the nature of the seized species, the extraction site was probably in some places in the North-Northeast of the country, in the states of Coahuila, Nuevo León, Tamaulipas, and/or San Luís Potosí.
Source: Europa Press