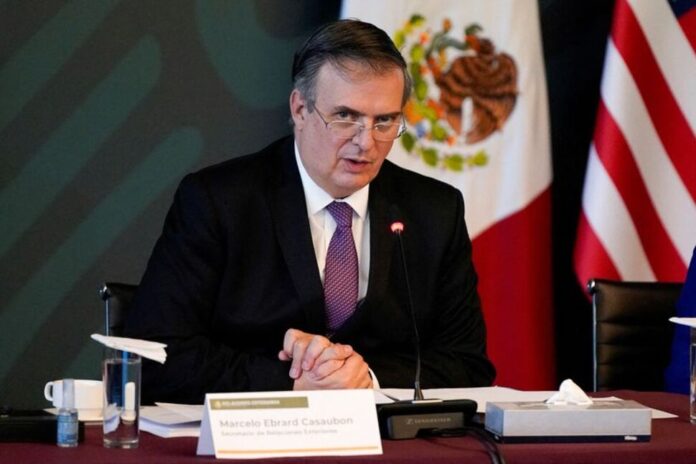 On Friday, May 12th, Mexico's foreign minister slammed a bill approved a day earlier by U.S. Republican lawmakers that would tighten immigration policy and restart work on a southwestern border wall, accusing backers of peddling racism against Mexicans.
The U.S. House of Representatives on Thursday approved the legislation, which would require asylum seekers to apply for U.S. protection outside the country. It would also resume work on the wall promoted by former president Donald Trump.
Democrats have indicated they could block the bill in the U.S. Senate, which they control.
The package, intended to stop migrants and drugs crossing the border with Mexico, passed as COVID-19-era U.S. border restrictions were expiring.
Mexican Foreign Minister Marcelo Ebrard said migrant flows in Mexico were coming down, after record detentions on the border in the run-up to the elimination on Thursday, May 11th, of the U.S. policy known as Title 42.
He panned the U.S. House bill, saying it and other Republican-led efforts, such as pinning blame on Mexico for the supply of deadly opioid fentanyl, were "unacceptable" and would spark a "crisis" between the two close trade partners.
Speaking at a press conference with President Andres Manuel Lopez Obrador, Ebrard said the legislation was aimed at scoring political points. Mexico and the U.S. both hold presidential elections in 2024, and Lopez Obrador again urged voters in the U.S. not to vote for Republicans who insult Mexicans.
"What's the cement behind these ideas, the people who believe in this?" Ebrard said. "Racism against Mexicans, and against all Spanish-speakers in general."
The president and Ebrard both singled out U.S. Republican Senator John Kennedy, who during a Senate hearing this week said: "Without the people of America, Mexico, figuratively speaking, would be eating cat food out of a can and living in a tent".
Kennedy made his remarks as he criticized U.S. and Mexican efforts to crack down on Mexico's drug cartels.
Source: El Financiero