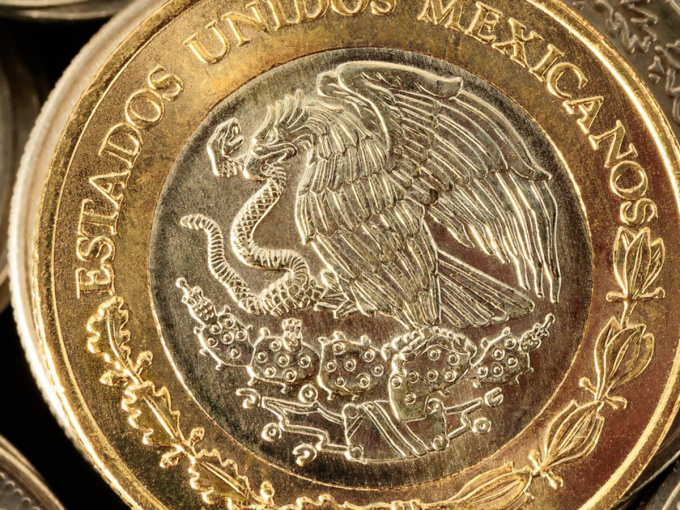 Mexico's inflation eased roughly in line with analysts' expectations in early April as the central bank weighs ending a record monetary tightening cycle in Latin America's second-biggest economy.
Consumer prices rose 6.24% in the first half of the month compared to the same period a year earlier, down from 6.58% in late March, the national statistics institute reported Monday. The result was just below the 6.25% median estimate of economists surveyed by Bloomberg.
Core inflation, which includes volatile items such as fuel and food, decelerated to 7.75% on an annual basis, below the previous measure of 8.03% and just lower than the median estimate of 7.76%.
Consumer prices fell 0.16% from the prior two-week period, though core prices rose 0.18% during that time.
"Falling inflation expectations, a favorable base effect, softening demand, and low commodity prices will help bring inflation down in Q2," said Andres Abadia, chief Latin America economist at Pantheon Macroeconomics. "It would be an error to increase the key rate when everything points to inflation decelerating."
Banxico, as the central bank is known, has increased its key rate by 725 basis points since June 2021 and has recently acted more aggressively than other inflation-targeting banks in Latin America.
Read More: Latin America Warns Markets of Long-Haul Fight Against Inflation
"There's been a probability of about 60% that they increase 25 basis points" at the next decision in May, said Gabriela Siller, director of economic analysis at Grupo Financiero Base, who added that today's inflation data lowered chances of such a rise.
Price Drivers
During its March policy meeting, Banxico lifted borrowing costs to an all-time high of 11.25%. Minutes from the meeting showed that board members are weighing how long to maintain a restrictive stance as dissipating price pressures allow them to consider ending their current hiking cycle.
Chicken and diesel were top consumer price drivers in early April, though a precipitous fall in airline costs and electricity from the previous two-week period contributed to the overall slowdown.
The consumer price report "shows that we have turned the corner and inflation is now gradually trending down," said Alberto Ramos, chief Latin America economist at Goldman Sachs Group Inc. "Another favorable inflation print may move the policy needle toward a hold at the next meeting."
Inflation in Latin America's second-largest economy is expected to slow to 5% by the close of this year and reach 4% by the end of 2024, according to a first draft of Mexico's 2024 budget. That's slightly above the estimates of the central bank, which expects inflation of 4.8% in the fourth quarter and 3.1% in the last quarter of 2024.
Economists see inflation reaching 5.13% at the end of 2023, with the core forecast at 5.31%, according to the most recent Citi survey published last week.
Source: El Financiero
---
---