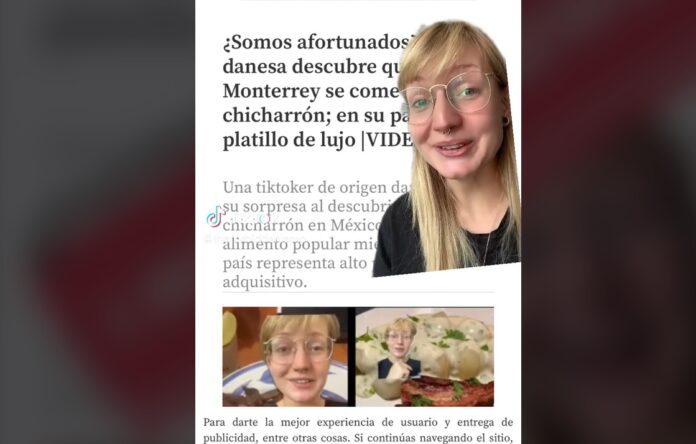 In Denmark, pork rinds are accompanied by potatoes and parsley sauce, and it is a food that represents a high purchasing power.
A tiktoker of Danish origin who currently lives in Monterrey, published through her TikTok account a video in which she shared her excitement after discovering that chicharrón is a popular food in Monterrey, while in Denmark, her country of origin, it is a national dish and that represents a high purchasing power.
In the video, the user identified as @theforbiddenlamp marvels at the taste of chicharrón regio. She also explains that in Denmark the dish, whose main ingredient is pork rind, is called Stegt Flaesk Med Persillesovs, which translates as "pork strips" or "crispy fried pork strips."
Chicharrón in the traditional Danish dish is usually served with potatoes and parsley sauce, while in Mexico it can be accompanied by a rich green sauce, or with flour or corn tortillas and if they are freshly made, much better!
The video has sparked various comments on this social network. Some of them invite the tiktoker to try the pork rind "with beans and guacamole" or with "pico de gallo".
Other users have opted for mockery by mentioning that Mexico is getting closer to resembling a first world country, now thanks to pork rinds.
Source: Excersior