Whether it's Taco Tuesday or Funday Sunday, night or day, you can always find good tacos in Monterrey, the city of mountains.
Here is a list put together by a local Amigo, Luis C.
5 Trending Tacos Spots in Monterrey
1. Tacos piedra (morning) Location: Av junco de la vega y Lirios in monterrey These tacos are probably the best in town, you can't miss the chicharron mexicana, deshebrada and papa with chorizo. Great sauces, try the green. Options: Harina or maíz tortillas
2. Tacos El Primo Victor (morning) Location: Av revolución y amecameca Good old school morning tacos, you can find them behind the generales buffet, these tacos are famous by the cabrito, tripa and carne asada. Great sauces, you can even have a chile toreado with grilled onion. A must-try.
Options: Harina or maíz tortillas 3. Tacos Peeter(morning) Location: Av garza sada y cisne in monterrey These tacos offers vapor tacos or harina canasta tacos, their speciality is the harina, get them early in the monrning before they are gone, a must try Papa with deshebrada and frijol with deshebrada. Dont miss them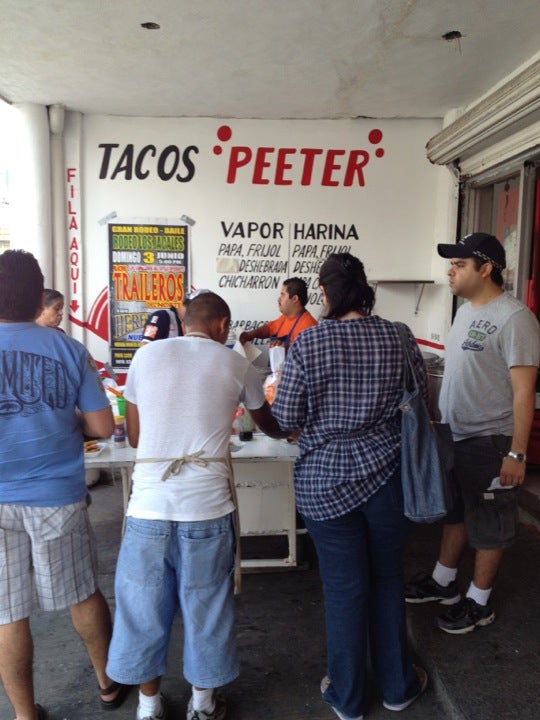 Options: Harina or maíz tortillas 4. Tacos el arabe (night) Location: Av ruiz cortines y tauro in san nicolas de los garza El arabe, the owner operate the tacos, if you are around the city, these tacos has everything you are looking for, on each orden of tacos you receive a cup of frijolitos charros and unlimited onions and potatoes to fill all your tacos, their especiality are the bistec and trompo tacos, but you can try choriqueso, suadero and campechanas. Great choice at night. Give them a try.
Options: Harina or maíz tortillas
5. Tacos El Güero (night) Location: Av revolución y bahía de las islas El güero has always been there, their amazing campechanas, tacos de bistec and their red sauce are unbeateable, but you have to be caution with the red sauce, the flavor is amazing but you are gonna get burned!!! Also a good choice for antojitos mexicanos, but definetly their speciality are the bistec, campechanas and güeras big size tortilla harina. Enjoy!
Options: Harina or maíz tortillas
Source: rome56.wixsite.com