Russia is seeking allies for the production of the Sputnik V vaccine in Mexico. In a conference, the director of the Russian Fund for Direct Investment, Kirill Dmitriev, assured that the European country is already in talks with various Mexican producers for that purpose.
"We see that pharmaceutical companies have developed in Mexico and we are talking with them. Currently, around 20 companies in the world are working on the production of the Sputnik V vaccine ", he explained.
Production of the anticovid vaccine in Russia
The Sputnik V solution was designed in a state laboratory with the backing of the Kremlin's sovereign wealth fund, so its manufacturing capacity is limited.
For this reason, Russia turned to partner countries that are in a position to produce large quantities of drugs. Currently, Sputnik V is produced in India, Korea, China, Brazil, and other nations.
In March, Russia will release the complete list of countries with which it co-produces the Sputnik V solution, a group that Mexico could join.
Sputnik V was the first Covid-19 vaccine approved for use anywhere in the world, last August.
Its use caused controversy as it began to be administered to Russian soldiers and health personnel before large-scale human trials were completed.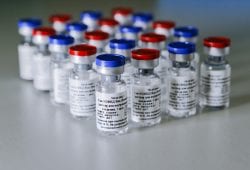 The skepticism dissipated after the results of phase three clinical trials in people, published and reviewed by scientists in the prestigious medical journal Lancet, were released earlier this month. The studies showed an efficacy of 91.6%.
After disseminating this information, Russia began the procedure to homologate the vaccine with the European Medicines Agency (EMA).
Production of the Sputnik V vaccine for local use
Just last week, Kazakhstan became the first country to authorize local production of the Russian Sputnik V vaccine .
The collaboration model agreed with that Central Asian country is the one that Moscow wants to multiply throughout the world.
The Karaganda Pharmaceutical Complex will be responsible for the creation of this formula, after receiving the Russian certificate authorizing it for this work.
Sputnik V in Mexico
On February 22, a plane from Moscow arrived in Mexico City with 200,000 Sputnik V vaccines against the coronavirus. It is the first shipment of a total of 24 million vaccines that are expected to arrive in the coming months.
Those 200 thousand doses were distributed immediately to inoculate the elderly in Mexico City, in the municipalities of Tláhuac, Xochimilco, and Iztacalco.
The Sputnik V vaccine requires two doses per person and its logistical management is not as complex as that of other formulas because it can be at room temperature. Its price is around 20 dollars.
Production of anticovid vaccines in Mexico
Of the vaccines that currently have an emergency use permit, Mexico only participates in the production process at AstraZeneca and Oxford.
The preparation of the AstraZeneca formula is carried out at Grupo Insud's mAbxience plant in Argentina. The packaging and export is carried out from the plant of the Mexican company Liomont.
Source, thelogisticsworld.com