The economic recovery from the COVID-19 pandemic will require the world's governments to make significant adjustments and continue with trade liberalization and reforms at the multilateral, regional, and national levels. Going back to protectionism and adopting an uncompromising stance, which privileges what happens within countries in terms of trade and economic policy, will only aggravate the falls in the Gross Domestic Product and the recessions generated worldwide.
Several countries, including Australia, are contemplating market diversification strategies for imports and exports, as well as strengthening international supply chains as economic reconstruction efforts.
Fortunately, both Australia and Mexico are part of the Trans-Pacific Partnership Progressive Integration Treaty (TIPAT), which encompasses the economies of the Indo-Pacific region, and which is likely to be the engine of global economic growth in the near future. Excessive dependence on or openness to a market can be lucrative, but if conditions falter, an economic downturn can quickly occur.
Being part of a plurilateral agreement like TIPAT can mitigate these risks and, together with a common set of rules of origin, can strengthen international supply chains among its members. Liberal market access and strong regulations also provide TIPAT members with the transparency, predictability, and openness necessary to facilitate increased trade flows. It also establishes the conditions to attract foreign direct investment.
Another advantage of TIPAT is that, through the membership provisions, it offers the possibility for members to agree by consensus on the entry of new or additional members, thereby increasing the economic importance of the agreement over time.
That said, the benefits can only be maintained if the rules or conditions of market access are not diluted through a process of expansion. Preserving the level of ambition negotiated by its 11 members is of vital importance.
It is undeniable that the TIPAT is an important plurilateral and regional economic free trade agreement. But in parallel with the ongoing implementation of the TIPAT, and the ratification by some members, we must also continue to work cooperatively and collaboratively on the reform of the WTO.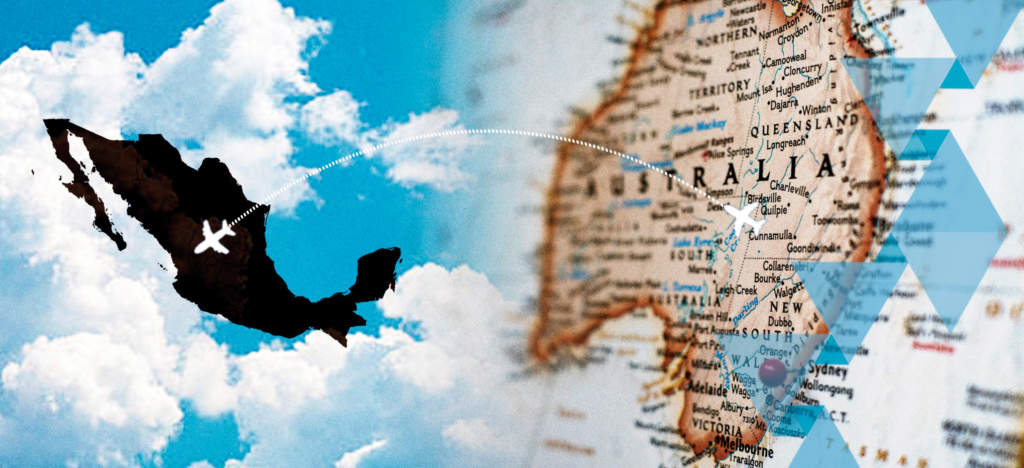 Due to Australia's long mining history, combined with its wealth of experience, Australian mining and mining services companies have the opportunity to play an essential role in the Mexican mining sector. The TPP
agreement removes tariffs on Australian mining equipment exports, further promoting Australian activity in this sector.
Australian engineering firm WorleyParsons once supported an expansion of Mexico's largest mine, Cananea, in 1970. Australian explosives producer
Orica continues to be one of the largest suppliers for Grupo México, Peñoles, GoldCorp and Fresnillo.
Australian companies and research organizations are responsible for many of the innovations implemented in the mining process' industries globally. In total, the mining equipment, technology and service (METS) industries contribute with more than US$70 million to the Australian economy annually, with exports exceeding US$21 million. More than 66% of METS companies are exporters. This includes companies such as Oniqua, JKTech, Austin Engineering (Westech), Pit to Ship, GroundProbe, Synergen
Met, Hawcroft, and Enviro Suite, with interest in Mexico.
Orica is known as the world's largest provider of commercial explosives and innovative blas ting systems to the mining, quarrying, oil and gas and
construction markets, a leading supplier of sodium cyanide for gold extraction, and a specialist provider of ground support services in mining and tunneling. In Mexico, Orica is a supplier of mining companies, construction companies and Pemex, with operations in 10 locations where it employs about 450 people.
BHP Billiton is a world-leading resources company. The Australian company extracts and process minerals, oil and gas and its products are sold worldwide and are headquartered in Melbourne, Australia. BHP became the first formal partner of Petróleos Mexicanos (PEMEX) in the history
of the Mexican oil industry by winning the tender for the Trion field, and approved the past year (2019) an investment of US$256 million for the drilling of a boundary well and the conduct of additional studies in said field in deep waters of the Gulf of Mexico.
Macquarie Group arrived in Mexico in 2006 and has invested more than US$158 million in the operation of highways, renewable energies such as
wind and hydroelectric parks, telecommunications, and in the education sector.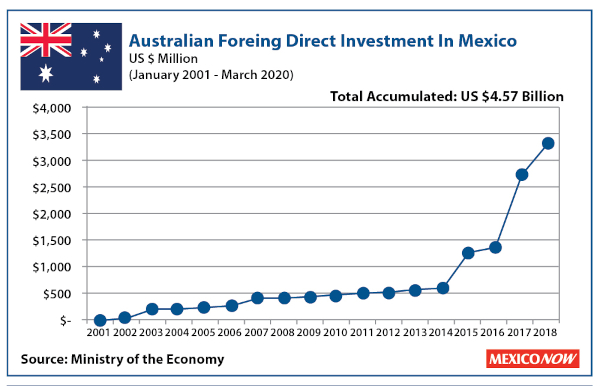 FIBRA Macquarie México is a real estate investment trust targeting industrial, office and retail real estate opportunities in Mexico with a primary focus on stabilized income-producing properties. It has issued real estate trust certificates listed on the Mexican Stock Exchange. During 2019-4Q they signed 17 new leases and renovations, giving a total of 2.2 million square feet of industrial ABA. In addition, FibraMQ consolidated 15
rental renewals with a total of 1.9 million square feet.
FIBRA Macquarie México (FibraMQ) allocated US$45.2 million to the development of its operations during 2019, reported the Mexican Stock Exchange (BMV). Of the total amount, US$22 million were destined for the construction of properties, expansions and remodeling of its portfolio; while US$18 million were used to pay for debt and US$5.2 million to buy back cancellation certificates.
The trust, which has 235 industrial properties, 34.4 million square feet of gross leasable area, in addition to 17 commercial and office properties throughout Mexico, has a total asset value of US$2.3 billion.
Regarding direct investments of Australia in Mexico, the companies with Australian participation in Mexico have materialized, according to data
from the Ministry of Economy (SE) of Mexico, investments that amount to US$4.57 billion from January 2001 through the month of March of this year, as shown in Exhibit 1.
Exhibit 2 summarizes the Trade Balance between Mexico and Australia. It shows that commerce between the two countries reached its maximum level in 2018, registering US$1.57 billion.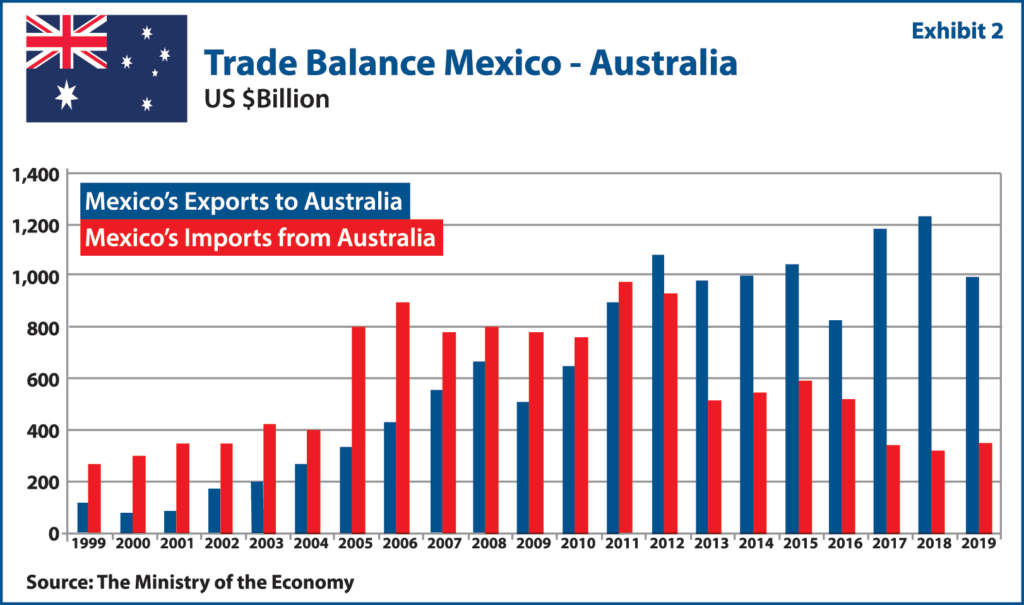 Bilateral commerce had been historically negative for Mexico until 2012, when it started to have a positive trade balance that has been that way until today. Important factors in the trade balance between Mexico and Australia are interesting. For instance, there is the fact that during the 20-year time
span from January 1999 to December 2019, total exports from Mexico to Australia increased from US$122 mi llion to US$1.2 billion. At the same time, imports from Australia to Mexico showed a more moderated growth
from US$273 million (1999) to US$351 million (2019). It is worth mentioning that in 2019 commerce stats decreased 13% over the data of 2018 (US$1.57 billion).
Mexico and Australia have joined efforts in order to build a solid relationship of understanding and cooperation, which has resulted in intense bilateral exchanges and an unequivocal commitment to generating solutions to the main issues on the multilateral agenda.
The economies of Mexico and Australia are complementary to each other and are open to the world. Their societies are modern and democratic and share common values and goals.
We have to be able to forge multilateral agreements that can bring economic benefits to the 164 economies that are today members of the WTO. Global growth must accompany regional growth if we are to witness a return to levels of economic activity prior to the covid-19 pandemic. Let's all move forward in the same direction.
I await your comments at [email protected] or on Facebook and Twitter as @AusEmbMex
* Australian Ambassador to Mexico
Source: excelsior.com.mx