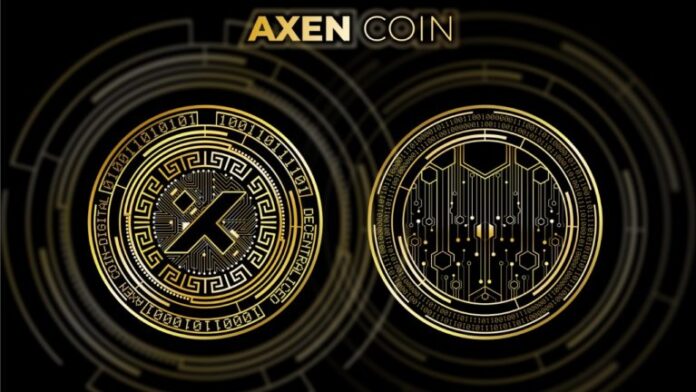 AxenCoin, a new cryptocurrency, was launched, however, a study still warns of challenges such as lack of knowledge about cryptoeconomics.
Mexico is gradually making its way into the crypto economy. Not only has the most important bitcoin exchange in Latin America, the unicorn Bitso, contributed to the ecosystem, but it is also seen as the country in the region that will adopt cryptocurrencies the fastest over the next year, according to a survey carried out in March. passed by Sherlock Communications.
High-profile entrepreneurs like Ricardo Salinas Pliego, CEO of Grupo Salinas, increasingly include the topic of cryptocurrencies in their agenda and investments. Even the investment fund Axen Capital launched its AxenCoin last Friday, which for now works only as an investment instrument, according to the CEO of the company, Dante Eludier, in an interview in which Forbes Mexico participated.
AxenCoin was born with a market limit of 3.2 billion assets and promises returns of 0.025% every 15 minutes through a compound interest scheme, which can be monitored in real-time through axencoin.finance.
Eludier pointed out that although the price of Axen Capital's digital asset started at $10, its value will fluctuate over time and then stabilize between $120 and $140.
When asked about how the new cryptocurrency is given value, Eludier commented: "we were looking for a service that could support AxenCoin, that service is called stacking, which does not mean anything other than participation in the blockchain network, they gave us those authorizations to participate as validators of all transactions that may be in bitcoin.
"A transaction is made and there are many validators in the world, AxenCoin is a protocol that serves as a validator. We serve as validators and that is why the blockchain system rewards us, they can pay us with the same cryptocurrencies that are created automatically for the service we are providing", he explained.
"Like any technology provider, Axen Capital is earning commissions for the service it is providing to each client for using our platform. We keep a percentage of everything that is generated there. There are validators that have more validation power, we are starting, so depending on the validation power you have, you can be the winner of the validation of this or that transaction", he added.
Dante Eludier acknowledged that businessman Ricardo Salinas Pliego "is one of the biggest promoters of the usability of bitcoin or cryptocurrencies, but in the United States and Europe there are business leaders and opinion leaders who are promoting that we now make the change to the decentralized economy where we do not need an intermediary".
"What we want is to push the bitcoin ecosystem very strongly for Mexico together with other companies that are already working on this, we are not the only ones, but we want to join this great effort, we believe that it is something good for society," added Eludier, who assures that the current financial system is reaching the end of its cycle.
On the other hand, YoCripto, the first digital platform in Latin America that offers a credit card with bitcoin rewards, announced yesterday a funding round of 4 million dollars led by DILA Capital to consolidate its position as the first non-financial Mexican startup to grant credits backed by cryptocurrencies through a 100% digital platform, as well as to increase its user base in the country.
YoCripto was founded in 2021 by Julián Arber and Rafael Maya and currently operates in Mexico, but they are already promoting its growth throughout the Latin American region. Unlike traditional financial services, the company offers higher benefits than its competitor's thanks to its crypto-based technology.
"We are very excited to offer YoCripto products in one of the countries with the highest adoption of cryptocurrencies in the world. Our mission is to open the door to the younger generations, by offering services that have a positive impact on their economy and generate their inclusion in the financial sector," said Julián Arber, CEO, and co-founder of YoCripto.
"The potential crypto market in Mexico will be 10 billion dollars by 2025 and we are sure that the growth rates will continue to increase during the next few years. We estimate that in Mexico there are around 30 million young adults who are in the underbanked segment, so YoCripto has great potential for development in the country", added Rafael Maya, President, and co-founder of the startup.
However, there are still challenges to overcome. According to the Sherlock Communications survey, a large proportion of people surveyed across all countries said they had never heard of blockchain; the highest proportion was in Argentina, with 89.2% of people who had never heard the term, although it had high levels throughout the region: 85% in Peru, almost 80% in Chile and Mexico, 77% in Colombia and 68% in Mexico. Brazil.
"The lack of knowledge about blockchain technology, which creates the ability to exchange currencies without intermediaries using decentralized and immutable digital ledgers that are the foundation of all cryptocurrencies, suggests that many respondents' understanding of this area is rather shallow. ", mentioned Luiz Hadad, the specialist blockchain consultant at Sherlock Communications.
"As much as this report shows us that Latin Americans believe that cryptocurrencies and web3 will play an important role in their financial future, it also reveals that there is a large knowledge gap that frustrates the desire of many people to take the first step towards the digital economy (crypto space or crypto world)", highlighted the specialist.
Source: forbes.com.mx, entrepreneur.com